S.C.B. PE PIPE SERVICE CO., LTD
---
We are a manufacturer and distributor. Conduit high density polyethylene pipe or HDPE pipe, PVC pipe , PP-R pipe, PB pipe, LDPE pipe for use in plumbing systems, drainage systems and Wire grounding.
The company installs plumbing systems, metropolitan waterworks, Irrigation Department, Department of Water Resources and water supply systems in industrial estates. With our expert technicians that had received a certificate from the Skill Development Institute, directly experienced in this field.
The company also distributes all accessories equipment related to all plumbing, such as PVC, LDPE, PP, PP-R couplings, water pipe fittings, PE fabricated fitting, compression fitting, flanges, water gauges, etc., and we are also an importer of small to large machines. For using with plastics and PE pipes, such as HDPE pipe welding machine, HDD, steel pipe press, Pipe jacking machine etc.
We are a leading supplier of HDPE Pipe in Thailand.
HDPE pipe is ideal for drainage projects where flexibility, light weight and low cost. HDPE Polypipes are made from high density Polypropylene. They are flexible and light weight. They are resistant to UV radiation, chemical, corrosion and can be used at higher temperature of up to 100°C.
HDPE Polypipes have excellent abrasion resistance compared to other pipes materials. The smooth inner wall provides superior flow characteristic. They are supported by numerous methods of joints: Electro Fusion, Butt Fusion, Socket Fusion and Mechanical Joint.
We are willing to provide the right information to suit the application. For the great benefit of dealers, contractors in government agencies and private contractors.
It is our vision to continually introduce new and innovative products and engineering systems which will benefit the building and construction community through the most cost effective solutions.
It is our belief that a strong teamwork and close partnership with our clients in various market segments enables us to meet their needs and deliver with good customer satisfaction everytime.
We are the dealer of HDPE Pipe from
- Thai-Asia P.E. Co.,Ltd (TAP Brand)
- SR PE Group Co.,Ltd (SR Brand)
- Five Star Innovation Co.,Ltd
Kindly contact us for quotation request.
S.C.B. PE PIPE SERVICE CO., LTD delivery across the country and abroad with a professional teams, experienced and responsible. the company gives the word and promise to all customers with the warranty work.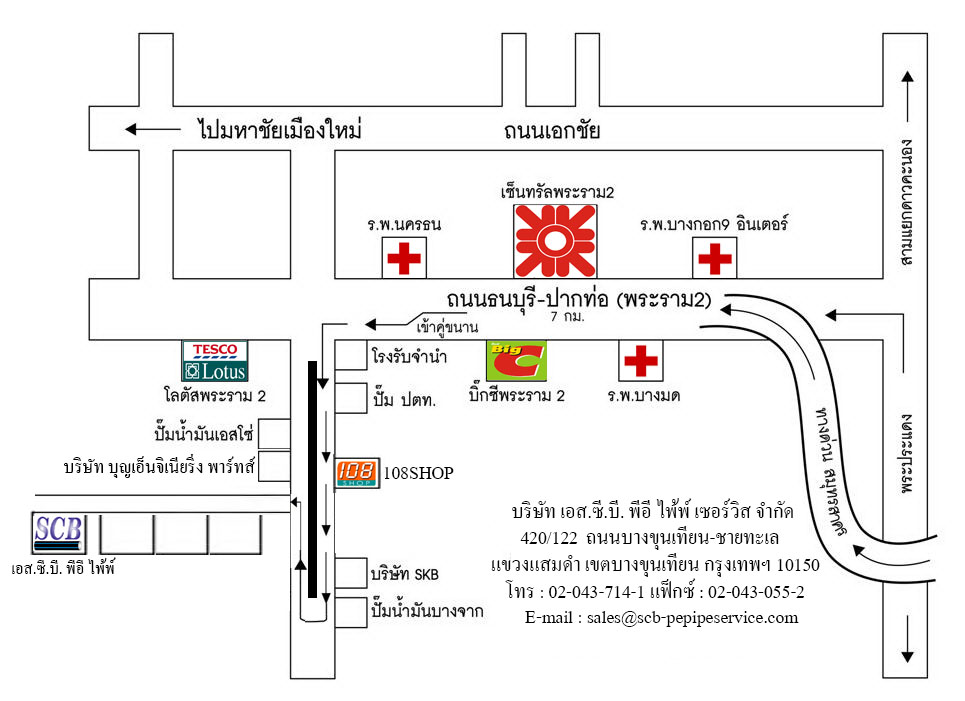 Head Office :  420/122-3 Bang Khun Thian- Chai Tha Ke Rd., Samae Dam, Bang Khun Thian, Bangkok, 10150
Tel. 02-0437141
Fax. 02-0430552
Mobile : 099-2526395
Sale Office : 099-962-6668, 099-962-666